Which Safety Glasses Should I Use For Glass Working?
Lampworking or glassworking has seen an increase in interest over the past few years. With the rise of Instagram and Facebook, glassworkers now have a new medium to display their finished products which are often intricate and beautiful. Glass pieces can often take a lot of work and many man hours are spent in studios learning new techniques and perfecting existing ones.
The glassworking community is a tight knit one, each person has their own style which is often recognisable from the pieces that they produce, and they are often free with their guidance and sharing of ideas for newcomers.
This was entirely evident during our visit to the Highland Flames Festival in September 2019. Some of the world's best glassworkers gathered for a two-day festival to create new pieces and share ideas, with those pieces ranked at the end by a series of judges.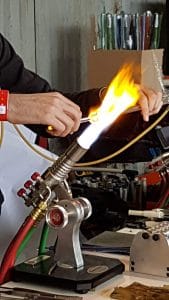 The sharing of knowledge underpinned the ethos of this festival, not least for us as we got a chance to see how our glasses are used by glass workers and what they wanted, hated and loved in a pair of safety glasses for glassworking. The sponsor table was visited by both old hand and newbie alike telling us what they wanted and needed from their glasses while they worked and the artists got a chance to try on different styles and lenses, giving us vital feedback on the range.
One thing that became clear was that newcomers to this medium are often unclear as to which glasses they should be using and when. With the variety of lenses on the market today it is often left to the purchaser to decide which ones they need but the information on what the lenses protect from and which to choose for which glass types are often lacking. In this article we will look at which lenses to use for which glass type to best protect your eyes.
There are many dangers to consider when working with hot glass – shattering glass is an obvious one and we saw this many times over the course of the weekend, with hours of care and work gone in a split second but there is also Ultra Violet and Infrared dangers to consider, not to mention sodium flare.
All of these dangers should be considered before you purchase a pair of safety glasses for working with glass.
Unfortunately, many take up glass working without considering these dangers and believe that a pair of clear safety goggles or glasses can protect the eyes or worse still a pair of sunglasses! Neither of these options should be used when working with glass – clear glasses do not protect you from IR or UV light and sunglasses allow the pupil to open wider which can actually let in more IR light and cause more lasting damage.
Glassworking eyewear can be expensive but it is important to get right as without your eyes, how will you create your works of art?
The first thing to consider is which type of glass you are working with. Those artists who use soft glass such as lead glass or soda lime glass will require different eyewear than those working with borosilicate, which is also known as "hard glass".
Soft glass is easier to work with as it melts at lower temperatures and can resist temperature changes more easily than borosilicate glass. Boro glass is more expensive that lead glass or soda lime glass but also provide a challenge for those working with it as it is likely to shatter if not treated with care.
Many artists choose to work with only one type of glass; however, some may work with all types during the course of their work which can mean owning multiple pairs of eyewear which can be expensive. One way to get around this is to own multiple pairs of clip on's which can be attached to your normal glassworking eyewear making owning many pairs affordable.
Those working with soft glass can find protection in the Phillips 202 lenses – which are often known as didymium or rose glass. This lens type block UV and sodium flare and is made from glass however there is also a polycarbonate version available which is more affordable and provides a lightweight option while still providing the same level of protection. The polycarbonate lenses will not last as long as the Phillips 202's however they can be an affordable alternative if you are just starting out and not sure if you will keep it up.
If you are also working with borosilicate glass or if you are solely working with this glass type you will also need protection from infrared as well as the ultraviolet and sodium flare. Your choice of glasses should include the Green ACE IR 3.0's which are suitable for those working with clear boro glass producing small pieces like beads and marbles. If you are doing larger pieces or working with coloured glass, you should be looking at the Green ACE IR 5.0's. These lenses are also suitable for working with thick rods of glass.
The lenses all come in a variety of frame types to suit all face shapes and head sizes. We also carry a range of goggles should you wish to be extra careful. Many of our frame types are fitted with side shield protection and can also come in a range of prescriptions so you don't have to keep changing your glasses or wear fitovers. The range is also available in a selection of clip on's which can mean that you can also avoid wearing fit overs, something which can be heavy and unsafe when glass working due to slippage.
If you feel you would like more information on how to choose the right glasses for the type of glass you are working with please feel free to get in touch with us at [email protected]