When something is extremely useful and convenient, we often find ourselves wondering just how that something that protects us so well in our every day hobbies or workplace was made in the first place. Though the process is somewhat complicated, we set out here to answer the question – How are safety glasses made?
The Materials
It's important to know what goes into safety glasses if we are to know how they are made and processed into appropriate PPE equipment – PPE being 'Personal Protection Equipment' which is meant to protect the health and safety of employees in their working environments.
For the lenses in safety glasses, polycarbonate is the most common material used, highly valued for its strength, as well as the ease with which it can be shaped into the tough material. Its very lightweight, making it ideal for use in safety glasses, where the material needs to be both comfortable and strong.
Trivex is also an increasingly popular material to use in the lenses of safety glasses, with similar properties to polycarbonate, with the added benefits of a higher scratch-resistance. Materials may differ when considering the frames of safety specs, however.
These two materials are used in both safety glasses, and prescription safety glasses, as they can also be shaped in the appropriate manner.
When it comes to the frames of safety glasses, the exact materials will often be found to vary depending on the manufacturers. In all cases, however, the materials will be shatter-resistant and are required to meet certain safety standards. Grilamid and nylon are two popular choices for the shaping of frames in safety glasses.
Like all other safety glasses, they will also be tested against certain forces in order to assess their durability.
The Process
As with all products, there's a process to the manufacturing of the product. All beginning, of course, with the concept and design. The first models of safety glasses are typically designed on computers, after which point a prototype is made.
Following satisfactory results, the production of the first batches can begin with the moulding of the frames through special machinery. The production of lenses can be a little more complicated, however, as these are the parts that need to be particularly protected against any kind of trauma or potentially harmful forces.
Lenses must be able to withstand high-velocity projectiles, severe scratches, splashes from harmful projectiles and more. When working on safety goggles in a lab environment, there are even more elements to protect against, such as radiation and gasses!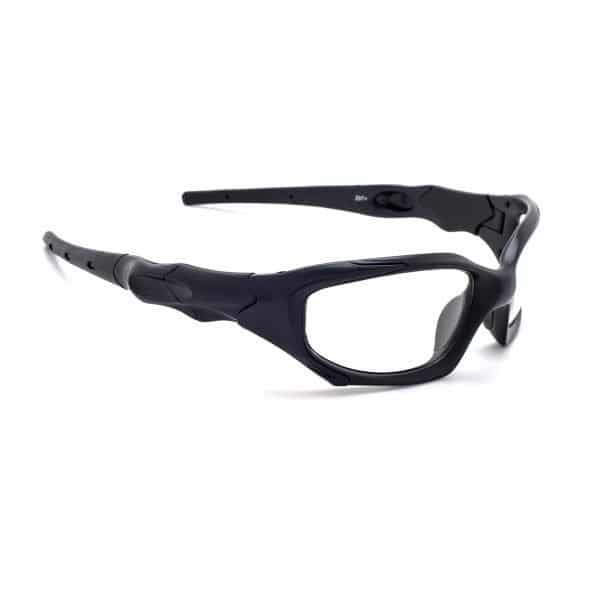 Prescription Safety Glasses
At Safety Protection Glasses, we are excited to present our in-house line of prescription safety glasses.
Our line of safety glasses can help you see clearly, whether you work a demanding nine-to-five job with lots of flying debris or simply enjoy woodworking in your spare time.  They also offer the maximum amount of protection for your eyes. These glasses can be used as your primary prescription work glasses or goggles, to allow you to work in safety.
We have many different types of safety glasses to suit your needs.  On this page you will find our plastic safety glasses, metal safety glasses, wraparound safety glasses and rimless safety glasses.
You can also find those with specific features such as safety glasses for women or goggle safety glasses.
As such, the lenses are gradually moulded in accordance with the legal safety requirements, often with polycarbonate as the most popular choice, on a granular level. Though the choices for material can differ slightly here, they must always be considered safe, and the process is the same.
Sometimes, the lenses might go through an anti-fogging or anti-scratch treatment before they're set into the frames. In other cases, they may go through a process to become prescription lenses, if an order has been made for prescription safety glasses, or even for prescription lab goggles.
The testing comes nest, with the lenses and frames both going through a series of experiments – all of which are based on real-world possibilities that may threaten to cause harm to an individual's eyes. They're tested against flames, projectiles, dropping debris and plenty of other scenarios. The lenses must remain within the frames in order to pass the test.
After testing, if all regulations have been followed and all standards have been met, then the new safety glasses can securely be shipped off for purchasing after the lenses are set and ready in their frames.
The Different Types
Though manufacturers of safety glasses all sell different products, their process generally won't differ from the one described above. Safety glasses cannot be sold without the appropriate testing, process of production and approval – given their status as a PPE, they are considered essential in certain workplaces. Therefore, how they're made is of major importance to health and safety.
There are various types of glasses made this way, from safety lab goggles, to sports glasses and even shooting glasses – used specifically in the police force for firearms training, or in shooting competitions that are popular throughout the US.
No matter your specific needs, you can always be sure that your safety glasses of choice have gone through the same rigorous production and testing process as all the others, in a manner that absolutely assures they will last you a long while – keeping your eyes perfectly safe all throughout it, too.