In this post we will look at the best anti fog for glasses and how to help keep your glasses fog free.
With many people now wearing masks, fogging or condensation on glasses has become a more widespread issue. Glasses will fog up naturally when exposed to a temperature differential. Whether you are going from indoors to outdoors, or from working up a sweat in a cold environment, our Anti-Fog products have been used by professionals for decades. Whilst some models of glasses and goggles may have anti-fog features, fogging can still be a significant issue. Luckily there are some affordable products that can quickly reduce or stop your vision from being obscured.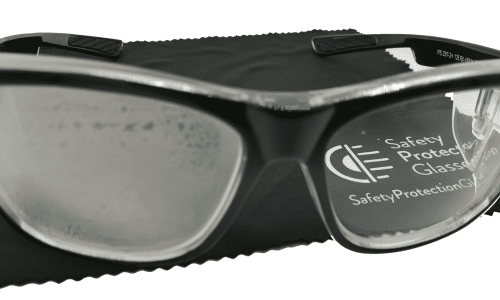 It is important for everyone to have fog free vision so that they can focus clearly on what they are doing, whilst keeping their peripheral vision clear to watch out for hazards.
Safety Protection Glasses are able to offer a Permanent Anti-Fog Coating that can be applied, which is out most effective anti-fog solution, however this can only be applied on prescription orders. Anti-Fog sprays provide an affordable and quick solution to the fogging problem faced by many.
Anti fog spray for glasses
As part of our Anti-Fog range, we have 2 different sprays to help keep your glasses steam or mist free.
Fog Free is a semi-permanent defogging cleaner that is safe and effective on most coatings and lens types. Prevents excessive humidity and moisture from fogging up lenses. This eye-catching product is going to be a must-have for all your customers.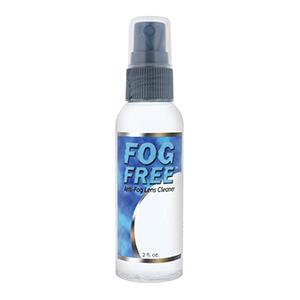 The spray has become very popular over the course of the pandemic, with bulk orders from large businesses and the NHS.
Features include:
Lasts up to 5 days under normal conditions
Anti-Fog AND Lens Cleaner
Anti-Streak and Anti-Static
Prices start from £4.99 excl. VAT
Using the same formula as the award winning Cat Crap Paste, The Cat Crap Anti-Fog spray is safe for use on all types of plastic or glass lenses, and so can be used with all types of lens coatings. The small spray bottle is handy and the formula is odourless which may be a concern for some if you do not like scented products. Don't be put off by its unusual name, Cat Crap is renown amongst the skiing and motorcycling communities for its reliable anti-fog effects.
Features include:
Cleans and polishes glass and plastic lenses
Repels lint and dust
Prevents Fogging of lenses
Price starts from £6.49 excl. VAT
Data sheets for these products are available upon request.
Other anti fog for glasses
Face masks will be here to stay a while longer while we work through our vaccination programme, so for those of us that wear glasses in work and outside of it, this has been causing a problem with lens fogging.
We have shown you two of our best selling products above which will therefore help to reduce the fogging on your glasses and you can also order an anti fog coating on your prescription lenses when you buy through us which will also provide you with additional protection. Find out more about the Myths surrounding Anti Fog Coatings and how they were first developed.
Most of the options that we will provide to you will instruct you to clean your lenses. This is because it will encourage the water molecules to form a layer on your glasses which will help to prevent the fogging.
Alongside the anti-fog sprays we have the longer lasting Paste, FogBuster or Clarity moistened anti-fog wipes, and our brand new special anti-fog dry cloths, which are similar to microfiber cloths you would usually use for cleaning your glasses, but can apply an anti-fog coating to whatever they are wiped on, up to 700 times per cloth!
So, if you have any questions about our products don't hesitate to contact us You can email us or simply select the chat bubble in the bottom right of your screen to chat live with one of our Agents.