Double Segment Prescription Bifocals are better known a Double D bifocals.  These are a very special lens which is created for those such a mechanics who require a viewing area at the top of the lens as well as the bottom.  The bifocal segment of the lens with look like the capital letter ' D ' and there is also one at the top and one at the bottom of these lenses, giving them their Double D name.
See our range of Double D Prescription Safety Glasses.
Double Segment Prescription Bifocal Safety Glasses.
These lenses are also known as occupational multifocal lens, also known as "Double-D." This lens is manufactured to have an upside-down flat-top segment for near or intermediate vision in the top third of the lens and another flat-top segment for near vision in the bottom third with the middle or centre of the bifocal being used for distance viewing.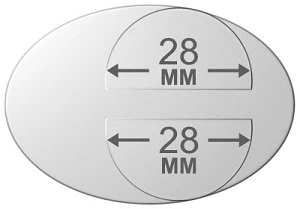 These Double Segment Bifocal Safety Glasses are mainly use by tradespeople such as Electricians, mechanics, plumbers who are required to work in small places and see things which are located above, below and up close to them without having the ability to move their heads.  As the the segments are located at both the top and the bottom, they only need to glance up or down to get the full bifocal power.
The Double-D multifocal lens is popular with car mechanics, who will be in small spaces as above but also need to see and use their tools and will be required to work on vehicles on a lift above them.
The top segment of the Double-D Bifocal lens helps them to view the undercarriage of the car without having to tilt their head too far backwards.  We have also come across mechanics who wear their glasses upside-down in this situation to help them see what they are doing – the Double Segment Prescription Bifocal will assist with this issue.
How To Buy Double D Safety Glasses
When ordering Double 'D's you should think of them as a standard lined bifocal.  To order you will require your ADD power, your prescription details and your pupil distance.
Our segment are manufactured to be 14mm apart, which means for the segment height you will need to measure from the bottom eyelid whilst wearing the glasses.  As with our standard bifocals you can also use a standard of 3mm below the centre of the lens.
SHOP DOUBLE SEGMENT PRESCRIPTION BIFOCALS
Find out more about measuring your pupil distance
Check out our video on measuring your segment height