For over a decade, we have been working on developing flare reduction welding lenses to improve the quality and efficiency of your work. Our team of product designers and engineers has produced many breakthroughs, and this section holds the best welding innovations we've designed thus far. Here you will find high-quality glass and plastic products that can be used to improve your vision during welding by reducing flare and increasing contrast. Read the descriptions below to get a better idea of the usefulness of the flare reduction welding lenses we've developed and how they can be used to improve your work.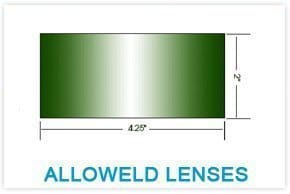 AlloWeld is a breakthrough welding lens that is used in place of your regular welding lens. AlloWeld is a composite lens that combines the infrared and ultraviolet protection of standard green welding glass with special flare reducing and contrast enhancing earth metals. This lens is composed of optical-quality glass and will improve your vision by reducing the harsh yellow flare that comes from most welding procedures. AlloWeld practically eliminates the arc during welding, allowing you to see the weld puddle and your work.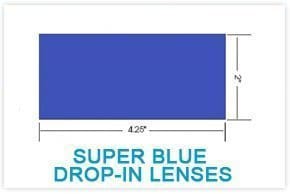 Our Super Blue Drop-In Lenses are used in conjunction with your current welding lenses. This optical-quality polycarbonate lens blocks certain ranges of yellow light, reducing the harsh yellow flare during welding and bringing better focus to your work. Because it is not made of glass, this lens belongs behind your green glass lens in your helmet to prevent pitting. The Super Blue Drop-In Welding Lenses are a perfect choice for welders who are happy with their current welding lenses and just want to cut down on some of the yellow flare from their arc or torch.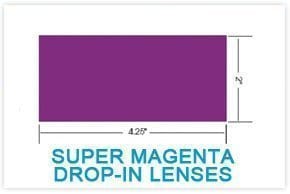 The Super Magenta Drop-In Lenses are our most innovative breakthrough in welding technology. These optical-quality acrylic lenses are designed to be used behind your current welding lenses, and the difference they make is unbelievable. Our Super Magenta lenses block the harsh yellow flare and increase contrast and visual acuity, giving you the ultimate view of your work. Bringing together reductions in specific, distracting yellow wavelengths and improvements in the colors you need to see most during welding, our Super Magenta Drop-In Lenses are ideal for welders who want the best vision possible. These lenses allow the highest-quality and most efficient welds because of the incredible visual acuity they provide.